<!—左のページ内容(始まり)―>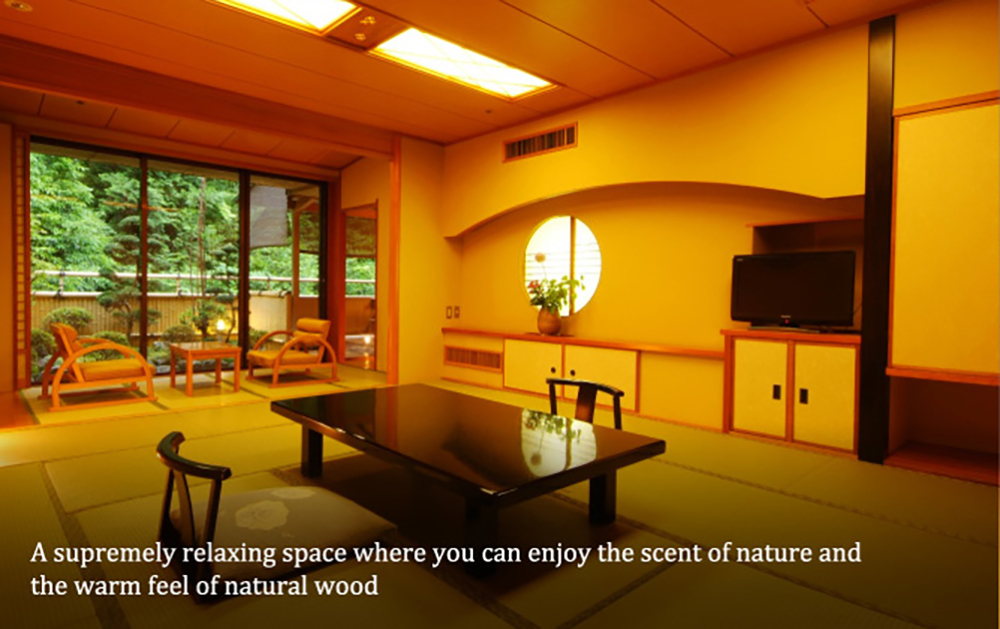 Syoenso Hozugawatei offers relaxing spaces warmed by natural wooden tones. Take in the four seasons of Kyoto and pass the time slowly, forgetting all of your daily worries. There are various ways to enjoy your stay, including guest rooms with attached open-air baths, rooms with baths made from cypress, suites with both Japanese-style and Western-style rooms inside, a room whose attached bath boasts a scenic view (one room only) and more.

Six different types of rooms are available, giving you various ways to experience Japanese tradition.
<!—部屋01―>
Room Type A
Standard Double Room
A comfortable Western-style room with a double bed
This comfortable room type is perfect for guests who prefer beds over futon
<!—部屋02―>
Room Type B
Standard Japanese style room
Standard room types with the refined feel of Kyoto
Make yourself at home while enjoying the elegance of Kyoto in our standard rooms
<!—部屋03―>
Room Type C
Deluxe 1 Living Room with 1 Bedroom
Two-room suites with both Japanese- and Western-style rooms
A combination of Japanese- and Western-style rooms with a meticulous focus on interior design
<!—部屋04―>
Room Type D
The open air bath of room
Rooms with attached open-air baths that focus on relaxation and uniquely Japanese refinement
Enjoy bathing in private with your travel partner in this room with attached open-air bath
* One tatami mat is approx. 95 × 119 cm, or just over 3 × 6 ft.
| | |
| --- | --- |
| Check-in/check-out | Check-in at 3:00 p.m., check-out at 10:00 a.m. |
| No. of rooms | 56 |
<!—左のページ内容(終わり)―>
<!—右のリスト欄(始まり)―>
<!—右のリスト欄(終わり)―>
<!—JSスクロール―>